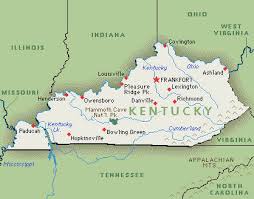 From the web site

June 10 2009 (Carbon Capture Journal)
- Fifteen months after project planning began, drilling has started in Hancock County, Kentucky for a test well to research the permanent storage of CO2.
The 8,300-foot well will help determine the feasibility of injecting CO2 into geologic formations to help reduce emissions of greenhouse gases to the atmosphere.
The project is the result of a joint effort between Kentucky state government agencies, the Kentucky Geological Survey (KGS), and a consortium of public and private participants.
The project was made possible by a $5 million grant awarded to the geological survey from the Kentucky Department for Energy Development and Independence as a result of appropriations from the Kentucky General Assembly.
A portion of this grant is used for the west Kentucky project, with substantial matching funds provided by industry partners. The KGS recruited corporate partners who have contributed the majority of the funding and services crucial to completing the project.
NorAm Drilling, Inc. of Houston, Texas, has been selected to drill the well, a task that is expected to take 45 to 60 days. To protect shallow groundwater and oil and gas resources of the drilling site, the upper 3,800 feet of the well will be lined with steel casing.
Project plans call for drilling through the Knox and Mount Simon formations to test their potential to permanently store CO2. Studies have indicated these formations may have characteristics needed for such storage.
The well will penetrate Precambrian basement rocks at its total depth. Samples of geologic formations will be taken for testing and analysis, and up to 1,500 tons of carbon dioxide will be injected into deep formations to further the understanding of the feasibility of commercial CO2 storage.
State grant funding will also be used for a similar deep carbon dioxide storage test in eastern Kentucky and enhanced oil/enhanced gas recovery projects.
TENTATIVE PROJECT TIMELINE
* Spring 2009: Drilling phase. (Drilling expected to take 45 – 60 days; well of about 8,300 feet will be cored in intervals, geophysical surveys completed and interpreted and prepared for injection testing.)
* Spring - Summer 2009: Start of injection testing with brine and CO2. Deeper porous zones will be tested for injection capacity.
* Summer - Winter 2009: Post-injection monitoring of well site. Interpretation of drilling and testing results and preparation of final reports. Project completed, and well plugged and abandoned per Kentucky and U.S. EPA specifications. Environmental monitoring to continue over the next several years.
PARTICIPANTS IN THE PROJECT
* Kentucky Geological Survey
* University of Kentucky
* Commonwealth of Kentucky
* Kentucky Energy and the Environment Cabinet
* Western Kentucky Carbon Storage Foundation: (Members: ConocoPhillips, E.ON US, Peabody Energy)
* Illinois Department of Commerce and Economic Opportunity
* Tennessee Valley Authority
* Schlumberger Carbon Services
* GEO Consultants, LLC
* Sandia Technologies, LLC
* Smith Management Group
* Wyatt, Tarrant, and Combs